Description of Services
Established in May 2004, Morpho is an R&D startup founded primarily by engineers from the University of Tokyo who had built their careers researching digital image processing technologies. Based on the conviction that computer science is a practical endeavor, our mission is to strive to contribute to the world by applying state-of-the-art technologies to social needs, rather than leaving research in the realm of theory. We seek to help establish a new age for digital images and the imaging industry through R&D and product development based on proprietary technologies.

Our goal is to deliver de facto standards throughout the processes of image recognition, processing, and expression for various platforms, including the embedded devices found in smartphones and other products, by delivering efficient and high-quality next-generation digital image processing frameworks.

The Morpho Group business model is based on the licensing of various image processing software products. Outlined below are our software products, revenue structure, and IP strategy.
1. Software products
Of the five human senses, vision is a key input interface. It's said 80% of human information processing depends on visual information. Alongside progress in networking and digital technologies and the spread of smartphones and other devices in recent years, the visual information processing environment has experienced dramatic change. We see a need to help develop new lifestyles and the technologies that will make them possible—technologies that would make it possible for anyone anywhere to record, save, edit, and share images as a second set of eyes.

Since its founding, drawing on R&D on advanced digital imaging algorithms, the Morpho Group has developed software products that apply state-of-the-art image processing technologies. We believe the Group's technologies and products, with functions realized entirely through software, offer advantages in aspects ranging from stability to capacity and power consumption requirements.

Always seeking to reflect customer needs, the Group develops products while continuing to track trends in state-of-the-art technologies. We're committed to sustained growth as an enterprise whose mission is to provide delight and satisfaction through timely products.
2. Revenue structure
The Morpho Group is involved in the business of licensing software, chiefly for the smartphone market. Net sales in this business can be subdivided into revenues from royalties, support, and development. The Group's revenue structure is outlined below.
(1) Royalties revenues
These revenues consist mainly of licensing fees, paid by smartphone manufactures, on smartphones and other devices shipped with Group products installed, based on distribution licenses and licenses allowing use of multiple software products developed by the Group. These revenues typically arise from direct transactions with parties that have concluded licensing agreements, in cooperation with the Group or other companies. Licensing fees are earned mainly based on numbers of products shipped.
(2) Support revenues
These revenues can be subdivided into two main categories: revenues generated by supporting efforts to port Group products to devices and to other products on the assumption of licensing Group products to smartphone manufacturers and other parties; and maintenance revenues from providing fixed duration technical support after licensing Group software products.
(3) Development revenues
These revenues are typically generated in efforts to supply the Group's standard image processing engines to smartphone manufacturers or other parties engaged in technological assessments of prototypes while appropriately limiting the scope of use of Group technologies or products. Other efforts involve subcontracted research or development for parties seeking to create new products and services. The latter case may include licensing businesses undertaken by the Group in cases in which both parties share rights to final products. Revenues are also generated by development and activities undertaken under contract to smartphone manufacturers and other parties based on individual requirements (specifications).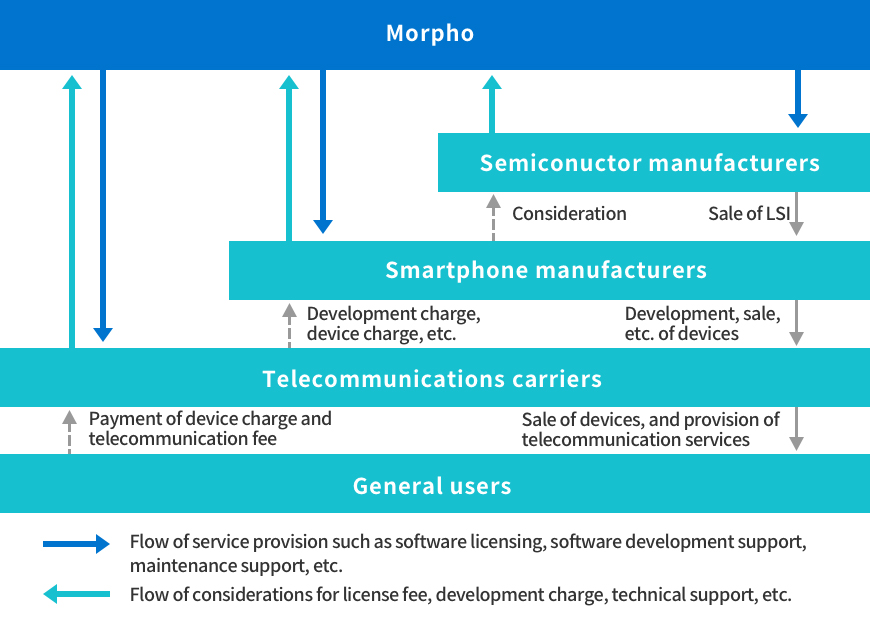 3. IP strategy
The Group is driven by R&D. As such, the Group's businesses are based on delivering new technologies clearly superior to existing technologies. To protect innovative proprietary technologies and to secure the domains in which the Group is active, we employ a policy of securing, using, and protecting patents while remaining a step ahead of the competition. In addition to proactive efforts to maximize potential asset value by taking action to secure patents that will boost the overall value of our businesses, we avoid IP rights infringement by performing comprehensive IP reviews to contribute to stable and continuous business growth.