Tokyo, Japan – March 26th, 2019 – Nekojarashi Inc. (hereinafter, "Nekojarashi"), a company specialized in cloud services for creativity purposes, and Morpho, Inc. (hereinafter, "Morpho"), a global leader in video / image processing solutions and imaging AI solutions, will once again feature "Setaria.cloud" (
https://setaria.cloud
) as the primary highlight to present some of its new intelligent video processing technologies and cloud storage integrations at this year's world's largest show for media, entertainment and technology, NAB Show 2019.
The prototype version of Setaria.cloud was first shown to the public at NAB Show 2018. After further refining and development, the service was officially launched in January. The service will be introduced and demonstrated with two new upcoming video processes at NAB Show 2019.
About the cloud video processing service, Setaria.cloud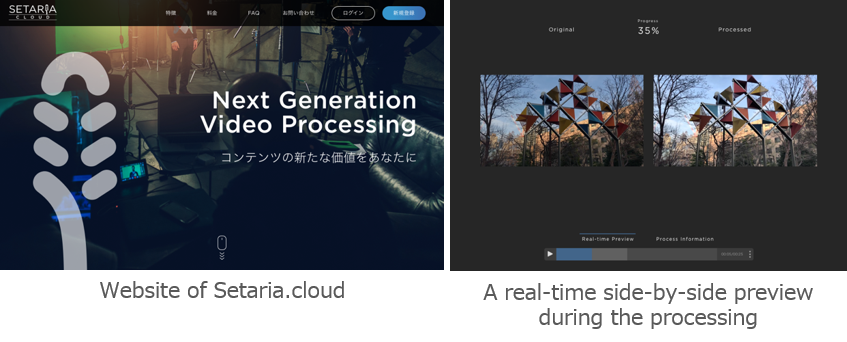 Setaria.cloud, which brings Morpho's video processing algorithm into a cloud platform developed by Nekojarashi, allows its user to have access to powerful high-speed video processing tool, regardless of the user's work environment.

As the service offers more than one way to make use of its powerful video processing algorithms via the user-friendly User Interface (UI), users may also opt to customize their usage via the publicly exposed API of Setaria.cloud, which enables various features of the service to be integrated into custom-built systems and services. Virtually all major functions from usage tracking, cloud integration management, and to running video processes are available securely via Setaria.cloud's API gateway.

The service is aimed to serve broadcasters, OTT*1 media services, post- production works, and other related industries with advanced enhancement features such as Super-resolution, Frame Rate Conversion, Noise Reduction, etc that are capable of delivering natural and realistic results as well as wide range of broadcasting codecs support.

*1: OTT is an abbreviation of "Over The Top", the term used for video and audio services delivered over the Internet as well as service providers which deliver that content.
About NAB Show 2019
NAB Show is the world's largest event for the broadcasting and video industries, which is organized by the National Association of Broadcasters. The show introduces new equipment and services related to the fields.
Official website:
http://www.nabshow.com/
Date: April 8th - 11th, 2019
Venue: Las Vegas Convention Center
Our booth: SU14510 (South Hall, Upper)
About Nekojarashi Inc.
Under the mission of "Drive people's creativity through the cloud", Nekojarashi has developed and offered JECTOR, a cloud workspace, which is exclusively for the creative industries such as video, music, publication, printing and advertising, for previewing videos, images, sounds, 3D, PDF and various other types of data without any customized software, irrespective of the time and place.
For more information, visit
https://www.nekojarashi.com/en
.
About Morpho, Inc.
Established in 2004, Morpho is a research and development-led company in image processing technology. It has globally expanded its advanced image processing technology as embedded software, for domestic and overseas customers centered on the smartphone market, broadcasting stations and content providers. It has also provided image recognition technology utilizing Artificial Intelligence (AI), collecting image information captured by cameras into devices and clouds and analyzing it, for fields such as automotive devices, factory automation, and medical care. Morpho will provide broad support, making a wide range of innovations happen with its imaging technology and Deep Learning technology.
For more information, visit
https://www.morphoinc.com/en
.
Contacts
Nekojarashi Inc.
Ayumi Ode
Phone: +81-3-6234-9434
Mail: neko_pr@nekojarashi.com

Morpho, Inc.
Yoko Ono
Phone: +81-3-6673-4332
Mail: m-info-pr@morphoinc.com

*Morpho and the Morpho logo are registered trademarks of Morpho, Inc.
本プレスリリースのPDF版はこちら