Business Field
We have defined five business segments as follows: (1) Smart Devices, (2) Automotive and Mobility, (3) Industrial IoT, (4) Digital Media, and (5) Medical and Healthcare.
We will promote co-development of technology and cooperation with partners in each segment and thrive to enhance our core products such as image processing software and fast AI inference engine to be fully utilized as "Innovation Engine".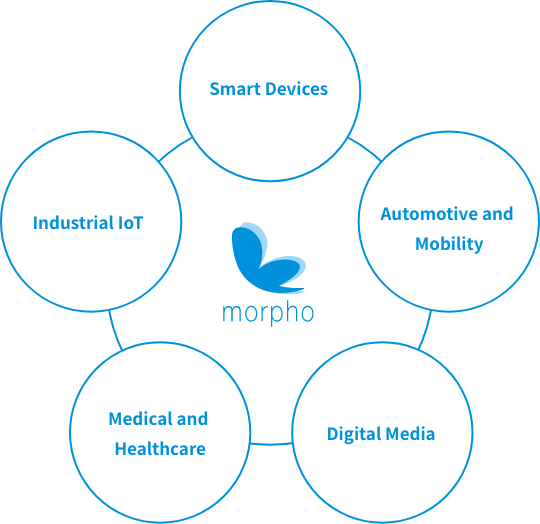 Smart Devices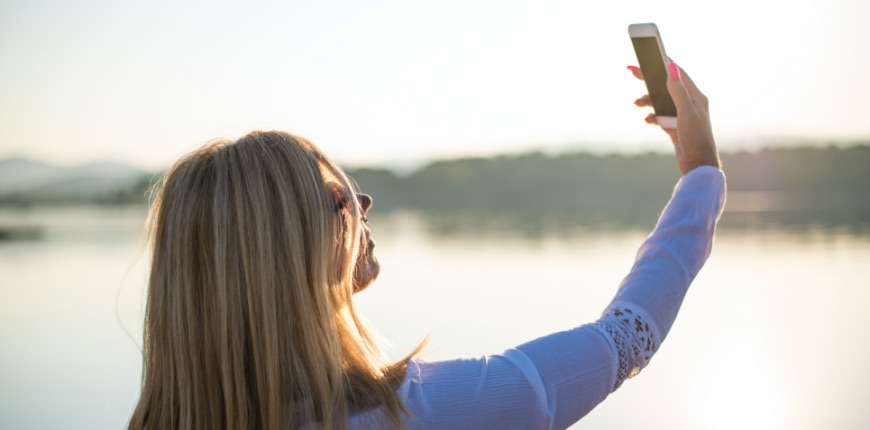 Assuming leadership in the evolution of smart devices through imaging AI
Morpho began as a company specializing in R&D on computational photography technologies designed to improve the performance of mobile phone cameras. Since then, as of the end of January 2021, the number of licenses granted for our image processing technologies in smartphones has grown to exceed 3.5 billion. We strengthen the value the products from leading smartphone makers, particularly in overseas markets. In the future, we will continue to play a leading role in the continuing evolution of various smart devices—VR cameras and wearable cameras as well as smartphones—through imaging AI that fuses computational photography technologies and deep learning.
Automotive and Mobility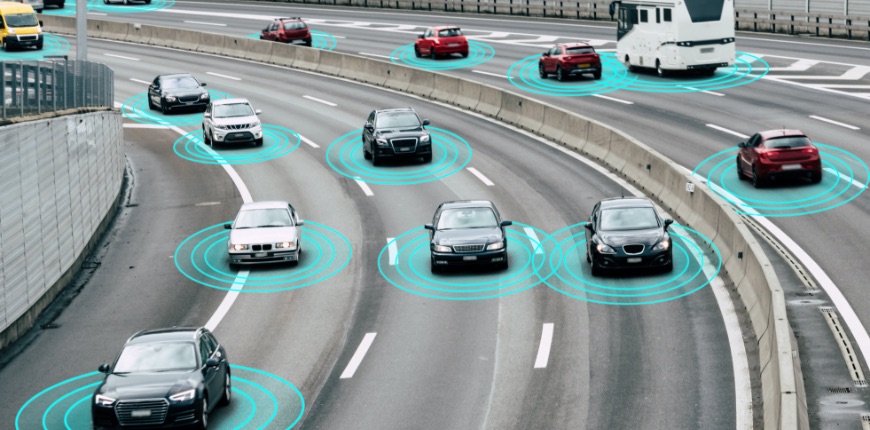 Applying AI to on-board cameras and evolving to MaaS solutions
Self-driving and advanced driver-support systems are currently drawing significant attention as ways to realize a safe, secure society free of traffic accidents. A key technology involves the use of AI in onboard cameras. Morpho believes applying imaging AI that fuses computational photography with deep learning to onboard cameras will lead the way to automation and safety features not just for automobiles, but a wide range of other vehicles, from special purpose vehicles (e.g., construction and agricultural machinery) to trains and ships. We will also contribute solutions that advance mobility as a service (MaaS), targeting challenges such as urban traffic congestion and environmental issues and helping those in the community with less access to mobility.
Industrial IoT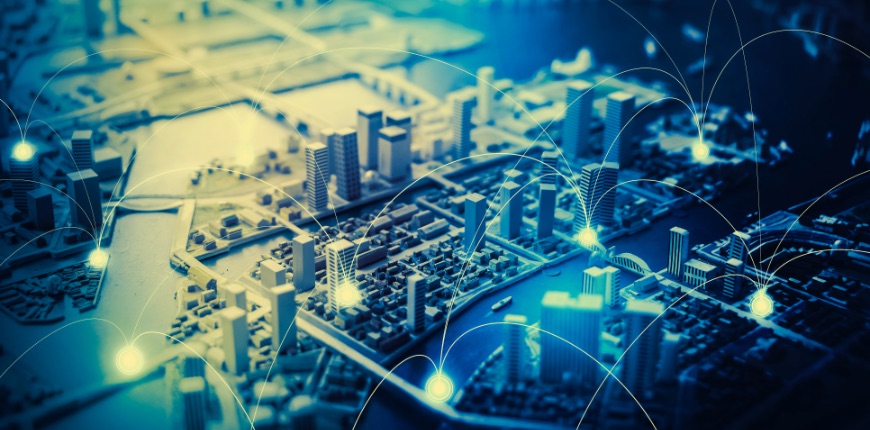 Imaging AI to serve as the foundation for safe, reliable manufacturing
Imaging AI is currently being widely adopted at manufacturing sites. Given the rapid pace of work on production lines at manufacturing plants, defect identification often depends on the eyes of highly trained staff. Image recognition technologies that draw on deep learning are used as a key technology allowing high-precision detection of defects not identifiable using previous image recognition technologies. We're also moving forward with applications of image recognition technologies to strengthen security at construction sites, dams, other infrastructure projects and in structural diagnostics to ensure the safety and reliability of public structures.
Digital Media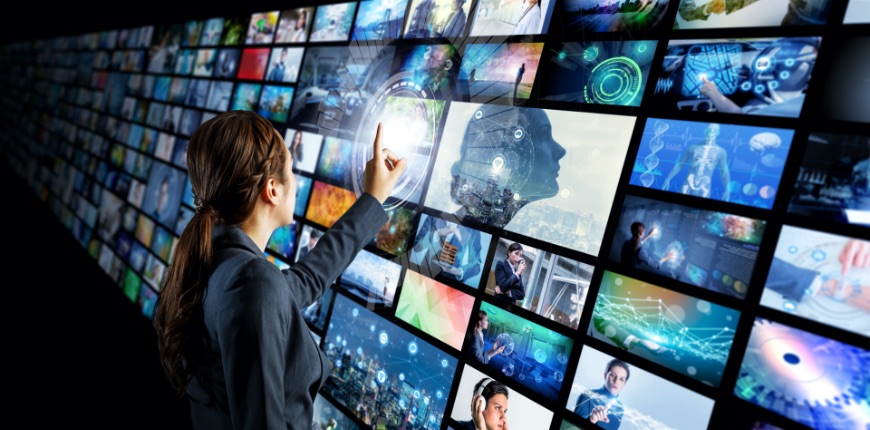 Reliable technologies to support high-quality image production
We provide software driven by proprietary algorithms to the video production industry, including revolutionary products that meet various special needs. These products incorporate easy-to-use solutions based on the latest image processing to resolve challenges facing video production professionals, including colorists and editors. We've made steady progress in performance while responding to the constantly changing technological standards of the video production industry and the real-world needs of those working at video production worksites. Through trusted technologies, Morpho seeks to improve video production efficiency and quality.
Medical and Healthcare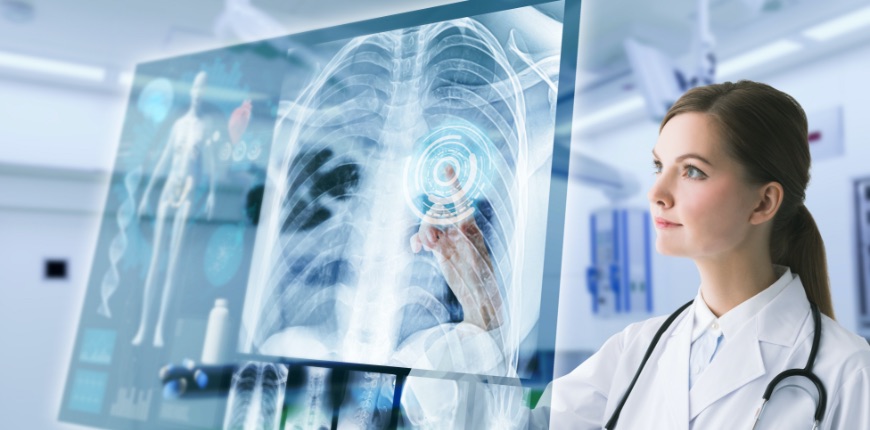 Contributing to health and medicine through imaging AI
Progress in medical imaging is expected to improve early detection of illnesses. The relative scarcity of specialist physicians available to diagnose images has led to issues such as growing burdens on diagnostic physicians and overlooked signs of various conditions.
We believe imaging AI will deliver solutions capable of handling the volumes of testing that are rising from year to year while maintaining testing quality.
We also seek to improve quality of life (QOL) by checking health using general-purpose devices and imaging AI for healthcare.