The feature phone era:
Imaging Technology 1.0
With the continuing evolution of mobile phones since the first shoulder phone was announced in 1985, the world's first mobile phone to be equipped with a camera was introduced in 1999. The ability to send and receive videos and images with Internet-connected mobile messaging services led to the rapid growth of cameras and the mobile phone industry.
In 2004, our first year in business, Morpho developed shake-reducing software adopted for use in Docomo mobile phones. Since then, we've delivered technologies for use in a wide range of mobile phones from Japanese manufacturers.

The smartphone era:
Imaging Technology 2.0
With the introduction of Apple's iPhone in 2007 and the subsequent introduction of a succession of Android smartphones, the market began to shift from feature phones to smartphones. As smartphone screens grew in size over the years, so did the demand for viewing and taking clear images and sharing them via social media. Every smartphone maker has worked to improve image capture performance, while progress in image processing technologies has led to smartphones capable of taking high-quality images rivalling those of digital cameras. Consumers have shifted rapidly from use of digital cameras to use of smartphones to take photographs.
Responding to the need for improvements in various aspects of camera performance, Morpho provides a range of technologies that make it possible to take clear photos even at night and those that use AI to improve image quality. In 2021, the cumulative total of image processing software licenses issued for use in smartphones exceeded 3.5 billion.
Total Shipped Software Licenses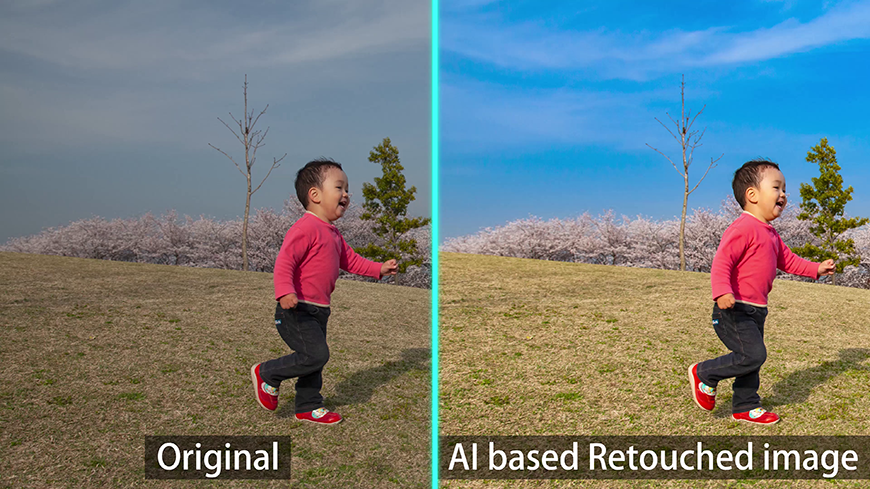 The era of cameras with AI:
Imaging Technology 3.0
In addition to smartphones, cameras are being embedded in an increasingly wide range of devices, including security cameras, drones, and robots. Drawing on our expertise with embedded devices in the smartphone field, Morpho delivers diverse AI and deep learning technologies to automotive, manufacturing, construction, broadcasting, medical, and other fields.
In addition, practical implementation of AI and deep learning together with the ever increasing computing power of edge devices are making it possible to obtain information difficult to measure before. The role of imaging technologies in realizing a safer, more convenient society with greater peace of mind continues to grow increasingly important.
Keep an eye on Morpho's imaging technologies as they continue to evolve.